Highlights

Easy to Use
Our administrative back-end is easy to use and the point-and-click interface makes managing your menu and adding ordering to your site simple.
Mobile Web App
Use our easy point and click interface to build your own mobile web application including custom content and links. Within minutes you can have a mobile ready ordering site at no extra cost!

Full POS Integration
Easily integrate with your existing Point of Sale system. No additional labor or work, just more orders.

Customizable
Options are available for ordering time frames, pre-payment requirements, and delivery or pick-up offerings. Items can be quickly disabled when out of stock, and re-enabled just as easily.

Advanced Reporting
View trends, top items, and even a list of your best customers based on order volume all with filters and interactive charts!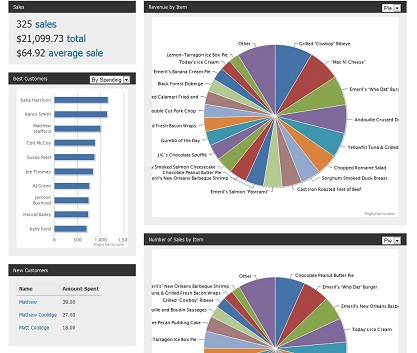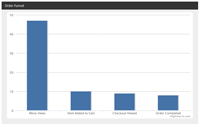 Credit Card Processing
Customers can save cards on file and use them to pre-pay for an order in just a few clicks. We work with many payment processors, so we can deposit funds right into your merchant account.
Site Integration

Drop In Ordering
Just copy and paste a snippet onto your web site, and start taking orders. It's that simple!

WordPress Ready
Our WordPress plugin makes it super easy to add ordering right to a WordPress-powered site.

Facebook App
Our Facebook App allows consumers to order right from your Facebook page. Turn fans into customers!
Customer Engagement

E-mail Newsletters
Engage your customers with e-mail newsletters and specials, and offer customers a coupon to sign up for your list to increase signups.
Use Constant Contact or MailChimp to keep everybody updated with your latest events and newsletters!

Collect Feedback
Customizable surveys provide customer feedback to help you improve service and fix negative experiences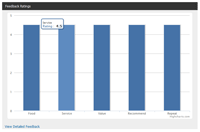 Coupons
Easily set up coupons for item discounts. Use coupons to drive newsletter signups and future offers.

Streamlined Ordering
Allow your customers to order food without the hassle of a lengthy signup process. This reduces order dropouts due to fewer clicks to completion.
Customizable

Checkout Fields
Add your own custom fields to our checkout page to capture additional information about each customer and order.

Advance Orders
Customers can select a future date and/or time for their order to be ready.

Custom Styles
Add your own custom style sheet to our menu page and checkout screens to easily blend our interface with your site.

Tips
If you want to collect tips, you can opt to have customers enter a tip amount upfront, or you can pre-authorize their credit card and enter a tip amount later.

Convenience Fee
Add to your bottom line by charging customers a flat or percentage-based convenience fee.

Custom Taxes
Easily support taxes like VAT or Virginia's bag tax, so your order amounts are always correct.

Flexible Options
Enable customers with flexible combinations, custom quantities, and size based pricing options.

Delivery Areas
Define a delivery radius, restrict by zip codes, and even draw precise areas on a map.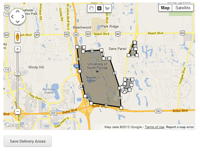 Make Mobile Yours
Enable mobile online ordering using your own domain!
Secure and Stable

Cloud Based
We're built on trusted, secure platforms, like Amazon's cloud computing environment, so your data is safe and highly-available.

PCI Compliant
Credit card data processing is always safe, secure, and PCI-compliant.

Fraud Prevention
When a customer doesn't use a credit card, you can force them to verify their phone number with a text message or automated phone call.
Developer / Designer Friendly

Open Source Mobile App
Our jQuery Mobile ordering app is open-source and totally free, available through our GitHub repository. Enjoy!

Open API
Our API allows developers to write custom apps that show menus and build orders. You can even tightly integrate the platform into an existing or newly built custom site of your own!
Helper Libraries
We provide libraries for different languages to make development quick and easy. We will also be adding more libraries in the future.